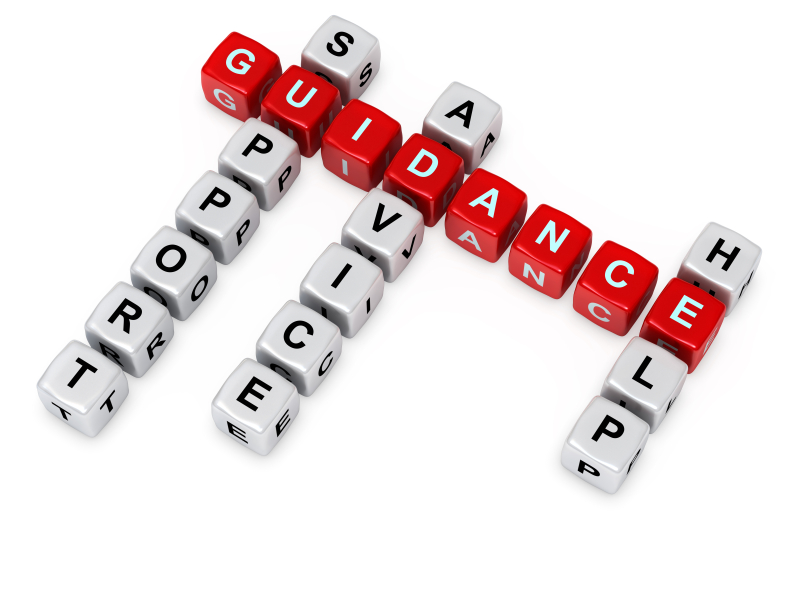 The Otter Valley Guidance and Counseling Department provides a variety of services in three areas: personal/social, career/college, and academic counseling. Within these three areas are specific services: counseling, teacher consultation, resource coordination, information delivery, parent education/consultation, placement, course registrations, and scheduling. Students are the primary focus of these activities. Counselors also work closely with parents, teachers, and administrators.
Otter Valley counselors spend the majority of their day working directly with students. Through individual counseling and classroom presentations, counselors address the developmental needs of students and provide crisis intervention. They are also in frequent communication with faculty, staff, and parents in order to coordinate services and provide an optimum school experience for all students.
Any student who wishes to meet with his/her counselor individually should make an appointment. In emergencies, however, a student should come in to see his/her counselor without advance notice. Parents are encouraged to use the guidance services, calling (802) 247-6833 with questions or concerns regarding their child's academic/social/emotional needs.

A Note from Legal Aid about Help During Difficult Financial Times
Dear Folks:
During these difficult times, new financial help programs are available to many Vermonters. The state does not want people to be struggling to pay bills, so please apply, even if you don't usually get public help. Vermont Legal Aid has more information on these programs on our website: http://vtlawhelp.org.
Vermont Legal Aid is also able to help individual tenants and homeowners. Call us at 1-800-889-2047 or go to http://vtlawhelp.org. For the fastest response, leave a message explaining what you need in a sentence or two.
1. Help with past-due rent
For help with past-due rent, Vermonters should apply for the Rental Housing Stabilization Program through the Vermont State Housing Authority (VSHA). Tenants and landlords apply for this program at the same time. There are no income limits. VSHA pays landlords directly to bring the tenant's rent account current. This program will last until December 30 or until the money runs out. You can get help now, and apply again if you still need help later. Learn more about this help for paying past-due rent on our website or reach us for help.
2. Moving to a new home
Some people need to move because of life safety problems with their rental unit, the rent is too expensive, they have trouble with the landlord or other tenants, or the unit is too big or too small. If you need to move and have found a new landlord, apply together for the Money to Move program at vsha.org. The program can cover the money needed to move in, such as first and last month's rent and security deposit. It also may cover rent payments through the end of this year. Learn more about this help on our website or reach us for help.
3. Emergency housing for people who do not have a home
The Department of Children and Families (DCF) Economic Services Division is extending housing support for homeless households. For more information or to apply, contact the Benefits Service Center at 1-800-479-6151.  Follow this link for the program rules.
If you stay in a shelter or motel, you need to participate in "coordinated entry." Through coordinated entry, you will be assigned a housing case manager who will help you access subsidies and programs to help you get permanent housing. To learn more about coordinated entry, call 2-1-1. If you worked with your case manager to apply for a subsidy or other program and your application was denied, call Vermont Legal Aid at 1-800-889-2047.
4. Past-Due Utility Bills
The Department of Public Services (DPS) can help pay past-due utility bills. The bills can be for electric, natural gas, landline telephone service or regulated private water bills (not municipal water). Homes and small businesses are eligible. There are no income limits, and you don't have to have a disconnect notice. However, your difficulty paying the bill must be linked to COVID. The funding only covers arrearages after March 1, 2020. If you need help to fill out an application online, contact your local community action agency. Learn more on the Department of Public Service website.
5. Mortgage Assistance Program (and maybe Property Tax Assistance)
This program can pay up to six past-due mortgage payments on your home. It is available to all Vermonters who:
are at least 1 month past due on mortgage payments

have a COVID-related hardship, and

meet the income requirements.
Even people who have mortgages in forbearance are eligible. If you have a mortgage and are behind on property taxes that you pay directly to the town, you may also be eligible for assistance. Vermont Housing Finance Agency (VHFA) is taking applications for the Vermont COVID Emergency Mortgage Assistance Program. (You do not need to have a VHFA mortgage to be eligible.) Learn more about the mortgage assistance on our website or reach us for help. 
Barb Prine
Staff Attorney
Disability Law Project, Vermont Legal Aid
802-863-5620 X254
She/her pronouns
Not sure if taking an AP course is for you? Click here for more information regarding AP courses and the benefits of participating in them.
Additional Education Programs:
Stafford Technical Center - Stafford Technical Center has been providing technical education since 1974. Over the past ten years, many things have changed in technical education and the programs that Stafford Technical Center provides. Our students come from a wide variety of backgrounds, with personal goals ranging from college, immediate workplace, or apprenticeship. Please check out all of our exciting and new changes through this web site or a visit to the center.
Patricia A. Hannaford Career Center - The mission of the Patricia A. Hannaford Regional Technical School District is to provide educational experiences that prepare secondary and adult students with the knowledge and skills to enter the workforce in careers that are high-skilled, in high demand, that pay a livable wage and to continue their education.
Moosalamoo - Students at Moosalamoo are engaged, inspired and informed. The curriculum is unit-based, linking traditional academics with real life applications and real life rewards. We put extensive emphasis on not only fact-based knowledge, but interpersonal skills, stewardship, self-direction, and personal investment.
Are you interested in attending another high school?
The legislature passed a law in 2012 (Title 16, Section 822a) allowing students at Vermont's 61 public high schools to apply to attend any other high school in grades 9 ‐12. Before the new law was passed, students could apply for school choice only within a region of which their high school was a member.
Students interested in applying for School Choice to area high schools need to complete and submit to the Guidance office a School Choice Application by February 26, 2021 (no later than 3:00 p.m.) Limited slots are available. A lottery will be held if more applications are received than slots available. Students will be informed by April 1 of school choice decisions or thereafter as slots are available.
Please contact the Otter Valley UHS Guidance Secretary Danielle Bishop, directly for questions at 247-6833 ext. 2608

For an application click this link:
School Choice Application 2021-2022
For more information please see:
Vermont Agency of Education Website
Meredith McCartney Director of Guidance mmccartney@rnesu.org
ext 2610

Char Wessing Student Information Systems Specialist cwessing@rnesu.org
ext 2673
Chris Wetzel Guidance Counselor cwetzel@rnesu.org
ext 2603
Danielle Bishop Administrative Assistant dbishop@rnesu.org
ext 2608
Katie Wallett
Student Assistance Program Counselor kwallett@rnesu.org
ext 2605
Nina Bulich
Middle School Guidance Counselor nbulich@rnesu.org
ext 2609

College/Military Visits
Juniors and Seniors: We have many college and military representatives that visit throughout the year to visit with you! If you are interested in speaking with one of these representatives, please see Ms. Bishop for a pass.
Middle School Information
Click here to download and print off our Transcript Request Form , and then email, mail or fax it in.
Otter Valley Union High School
Attn: Guidance Department
2997 Franklin Street
Brandon, VT 05733
Fax: (802) 247-4627
dbishop@rnesu.org